Having an accurate, up-to-date view of constantly changing network assets, both
logical and physical, is essential for avoiding service disruption, long delivery times,
high costs and inefficient planning. VC4-IMS offers a solutionfor both with physical network inventory software and logical network inventory software all in one single application.
Network change and evolution is a continual, daily occurrence. As well as planned design changes and build, such as the addition or upgrade of new platforms and services, there are innumerable ongoing changes created by the daily activities and functions of existing production services.
Of course, that's the point. These changes cannot be innumerable in complex operating systems,especially in telecoms network inventory management. They are finite and so it's essential to have an accurate, single overview of the network, and all the changes within it, at all times.
This means that any change to the network, physical, logical and/or service, must be captured to ensure that all systems and processes have the accurate information for correct functioning, and to avoid disruption to services or performance.
Automatic network discovery and reconciliation are essential in the network planning system
Incomplete insights in your operating system can also lead to long service delivery lead times, high CAPEX and OPEX costs, inefficient planning and lost assets. As we move towards autonomous networks this capability will become even more important.
But, there are many challenges to gaining a consistent, up-to-date inventory of all network assets, within an inventory network management system, including:
A constantly changing network.
Time-consuming and error-prone manual update.
The need to correlate planned versus completed changes.
Changes occurring outside your control (e.g. SIM card swap), without registration.
Automated fulfilment processes require checks on inventory and when provisioned.
Automated network stitching (auto-relating one vendor network platform to another).
Asset tracking – monitoring asset movements and synchronising with other systems, such as Financials, ERP, and so on.
Every day systems produce data that contains essential information across a range of interfaces – such as SNMP, MTOSI, web services, and more – and that reflects changes to the operational status of active elements. Furthermore, each interface cannot be viewed in isolation because every platform relates to another as part of complex service chains.
Put simply, each data feed needs to be consolidated into a single, consistent, meaningful view, which is easy to interpret. This is when automatic reconciliation becomes essential on a daily basis across all interfaces, whether proprietary, open or otherwise, including:
CORBA (Common Object Request Broker Architecture)
MTOSI
RESTful
RestConf/ T-API
TL1
XML
SNMP
CLI/Telnet/SSH
Flat files (txt, csv)
Vendor proprietary interfaces
Database to database interfaces.
Auto-discovery and reconciliation support the discovery of all physical and logical network assets, which are then stored as 'raw' data in an Inventory Management System (IMS). Any changes to network assets are compared against the original data and logged to create a continuous, up-to-date overview of all network assets.
VC4's rigorous, proven approach to IMS
VC4-IMS does exactly this using a rigorous set process. Every night the VC4-IMS collects data from NMS/EMS and/or NEs. This is the 'raw' data, which is then stored in tables within a dedicated database schema.
A selection of the raw data, depending on specific requirements, is translated into normalised data, which is then reconciled – VC4 calls this the 'reconcile' data. Reconcile data is then stored in the IMS Reconcile tables of the dedicated database schema (see diagram below). Importantly, this 'reconciliation' can be performed more (or less) frequently than once per day. It's up to you.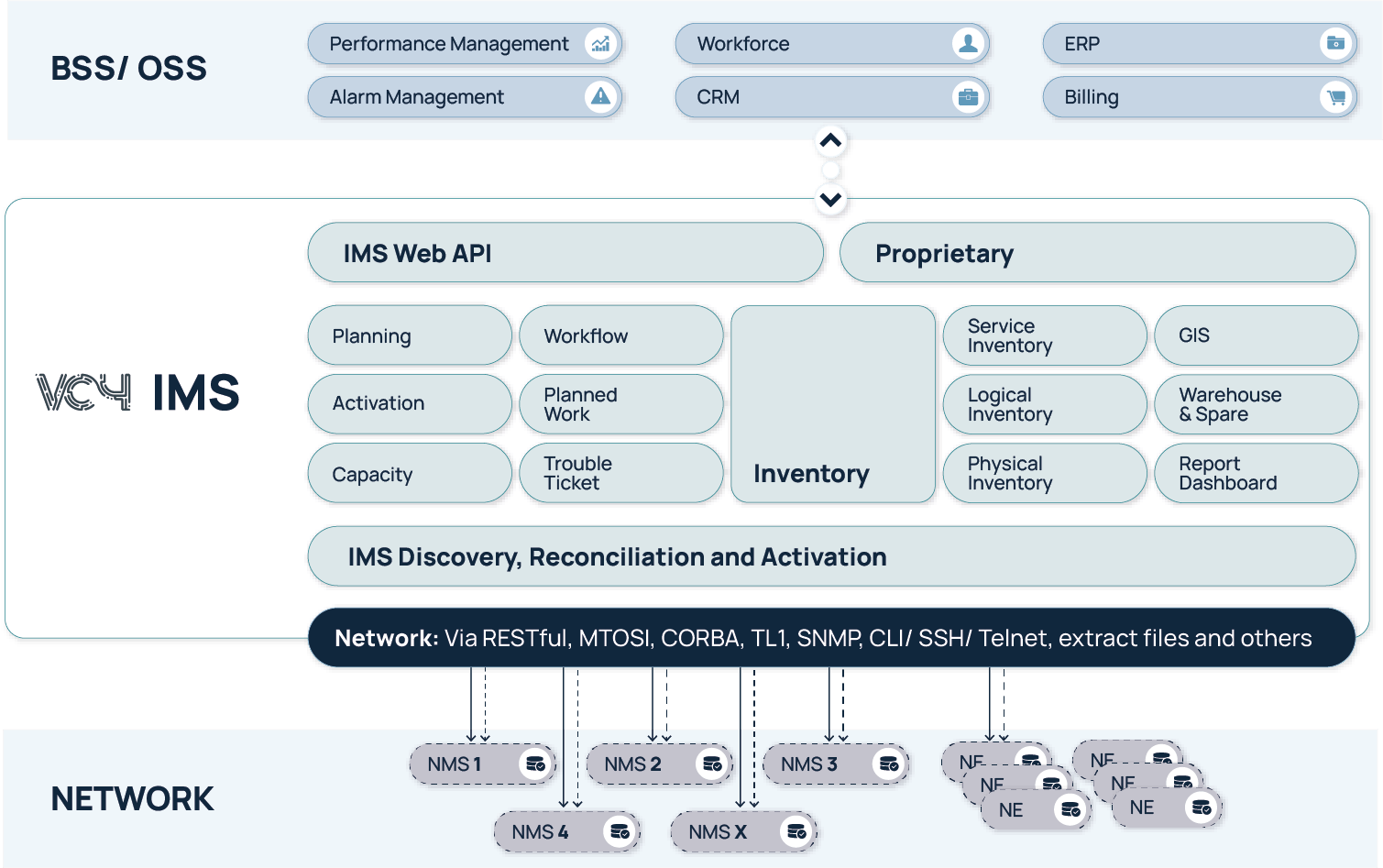 Put simply, VC4-IMS creates a 'single truth' of all physical and logical resources in the networks. It provides a clear, unified view of live network assets, and their utilisation and configuration.
VC4-IMS can also be integrated into the network to perform auto-provisioning (service fulfilment). It means that services are planned in the IMS (telecom network inventory management systems) first, which then pushes the information to the NMS/EMS or NEs to build the services in the network.
It is designed to interface with other systems, including BSS/OSS systems, such as CRM, Billing, Workflow/order management, Financials, and so on, ensuring that changes are synchronised across the board.
VC4-IMS (network inventory management system) provides fast and accurate information for all network assets, minimising the risk of service disruption. It also automatically creates trouble tickets and performs impact analysis to identify the impacted services and customers, simplifying processes and enabling service fulfilment.
Benefits of VC4-IMS include:
Automatic discovery and synchronisation of live network, improved quality
Single point of failure (SPOF), calculation, preventing unexpected outages
Automatic planned work impact analysis
Smart Sales – sell close to networks
Lease line management, save costs by checking invoices
Plan new network build just ahead of the demand curve, improve capacity planning
Quicker time to repair, improved 'trouble to resolve' processes
Optimise processes with IMS workflow
Vendor management, manage KPIs and improve SLAs
Linked to BSS/OSS systems, reduce double keying and data pollution
Support efficient day to day network operations
VC4's unique network reconciliation and auto-discovery is a powerful feature that allows you to keep control over your commodities. So, what are you waiting for? Gain control of your assets by synchronising actual active network assets in VC4 IMS and assure a 100% asset view of all active network components.
Explore all 10 modules to see the IMS capabilities and get in touch to find out more.